At a time when the 'Boro' were yet to turn professional, Middlesbrough already had a sporting superstar capable of drawing crowds of thousands to watch him compete. Yet today the name of the champion rower Robert Watson Boyd is virtually forgotten.
Robert Watson Boyd was born in Gateshead on the 20th September 1854, the son of a wherryman (a coal carrying tug on the Tyne) he was already known as a talented rower by his teenage years.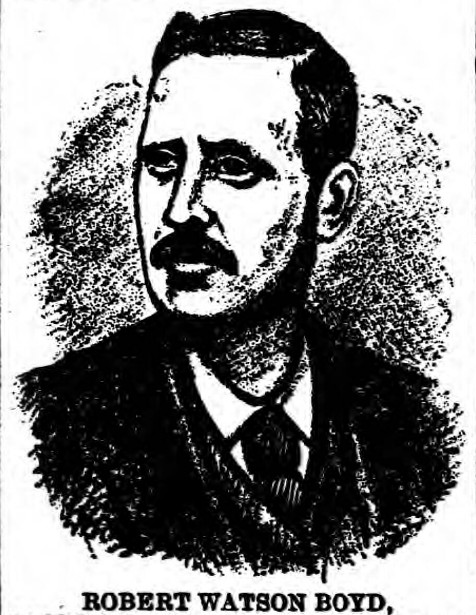 The World Sculling Championship had existed since 1831 with the champion taking on a challenger. This continued on the Thames and Tyne until 1876 when Australian born Edward Trickett returned home and took his title with him, leaving much confusion as to who was the English Champion. The Newcastle Daily Chronicle held an open regatta in March 1877 on the Tyne to decide, the event was won by Robert Watson Boyd who was crowned 'Champion Sculler of England'
In May 1877 Boyd defended his title and defeated John Higgins on the Thames by nearly a quarter of a mile. Higgins however took the title away from him just a few months later in October 1877.
Boyd moved to Middlesbrough in 1878 when he married Hannah Bell, whose parents ran the Alexandra Hotel. Boyd became the landlord when her parents retired.
In February 1880, Boyd raced William Elliott on the Tyne for £400 a-side and won easily. This would later emerge to be Boyd's final win, but at the time his good form allowed him to challenge the world champion Edward 'Ned' Hanlan. This match happened in June 1880 in Providence, Rhode Island, USA. He was unfortunately defeated, however this must still have been a huge event for a man from Middlesbrough in 1880.
A further match against Hanlan was arranged on the Tyne in April 1882. Press coverage was intense, with the Evening Gazette recording a crowd of 2000 at Newport in February just to watch him train, then giving daily updates on his progress in the paper. Despite the months of training Boyd was again defeated and announced his retirement.
However he seems to have had a change of heart and the 'Race of the Tees' is arranged for July 1882 against Australian Elias C Laycock for £400 (this is something like £40,000 today). The event drew thousands of spectators with excursion trains running to Middlesbrough from Sheffield, Whitby and Newcastle. Sadly Boyd lost again in front of the home crowd and this was his final race.
Boyd became landlord of the Shakespeare Hotel on Linthorpe Road, but his intense training which involved rapid weight loss seem to have taken a heavy toll on his body. He died on 1st July 1887 aged just 33, his cause of death was said to be 'Brights Disease' an old term which implies kidney failure. His grave can be found in Linthorpe cemetery carrying a pair of oars and his champions title.
Robert's widow Hannah stayed on at the Shakespeare Hotel and remarried Samuel Suffell in 1889. So she lost two husbands within three years. Perhaps a little unusual that they are buried together without her !