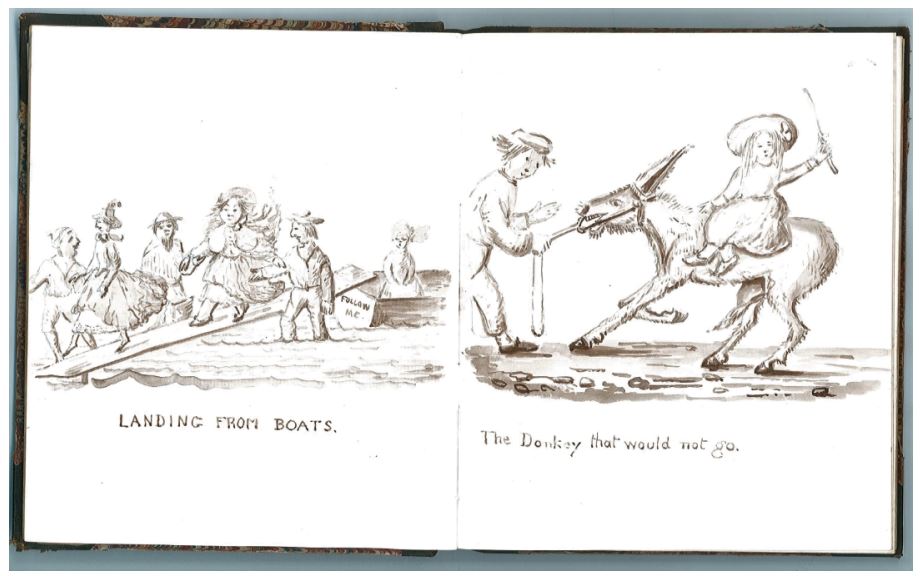 Written in 1865 by Frederick Colvile, The Coleville Manuscript is a sketchbook come 19th Century journal of a trip around the coast and pastures of Redcar & Cleveland. The book held by Teesside Archives forms the root of an upcoming exhibition for Tees Valley Arts at their new gallery space in Redcar, The Redcar Palace.

Never seen by the public before, the archival document details first hand, leisure and labour in Redcar and includes over 90 illustrations detailing the traditions of foying, selling fish, donkey rides and seawater bathing. The Redcar Palace will play host to the loaned manuscript presented alongside artworks responding to Coleville's observations as a holiday maker visiting the town. Featured artists and newly commissioned works include; oil pastel sketches by Redcar based Ross Lombardy. A collaboration between Redcar fishing family born writer Carmen Marcus and Saltburn by the Sea photographer Kev Howard. As well as, Whitby based ceramicist Aphra O'Connor's reinterpretation of the seaside, amongst many
others.

Opening on October 15th at The Redcar Palace, in partnership with Teesside Archives, it will be the first time the book has been in Redcar since it was written over 150 years ago.